8/21/07
My arrival in singapore started with a disaster.
Stupid me forget to bring the credit card that I used to buy my flight tickets.
Ha.. how typical. Something so dumb that only Michelle Chen can manage to make it happen.
Somehow in Taiwan they let me check in when I told them the last four digits of my credit card,
but in singapore the check-in person wouldn't let me do the same due to security reasons
as if a small taiwanese girl like me would like to bomb the airplane. So I had to pass through
all the immigration and custom to get to the lobby, get to the ticketing office outside to buy
new tickets (because their online system simply didn't work and their reservation phone line couldn't
get through), and pass all the security again to get back in. Lesson learned of the day: Always bring
all your credit cards, ESPECIALLY THE ONE YOU BOUGHT YOUR FLIGHT TICKETS WITH.
Despite all the troubles and running around I had to deal with, good things still happen
to people who are STUPID. Number one, I found this really yummy pandan green cake
they sold in singapore airport's lobby. Number two, ok there's no number two, the cake was it...lol
Finally, here I am, sitting in an airplane full of indians. A lot of them are staring at me.
They are probably wondering why is an asian looking girl like me traveling by herself
to a small city like Hyderabad. I would probably wonder that if I was one of them.
It's been a long time for me to travel somewhere new, and I am sure my trip India is going to be a
brand new advanture. I am all excited.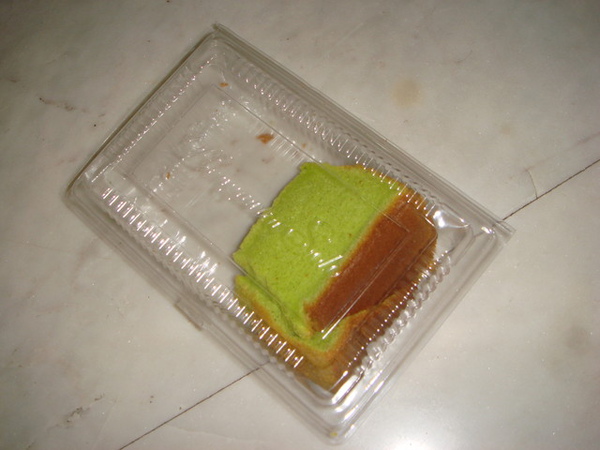 this is the famous pandan cake